The Brajkovich Family
The Brajkovich family and Kumeu River Wines is a story that parallels the New Zealand wine industry. From the pioneering days to the establishment of the New Zealand wine industry to today, the Brajkovich family have been internationally recognised as producing world class wine. The Brajkovichs are focused on and internationally recognised as producing world class Chardonnay.
Melba Brajkovich
click to view close
Melba Brajkovich, MNZM
Melba was recognised in the 2014 Queens Birthday Honours for her services to the NZ wine industry by being made a member of the NZ Order of Merit.
When Melba Brajkovich met her husband Maté in 1957, she had very little knowledge of the business of wine making. In the many decades since, she has become one of New Zealand's most experienced and knowledgeable women in the industry.
Maté, the family pioneer and visionary, sadly passed away in 1992. Our very best single vineyard Chardonnay will always carry his name in recognition of what a fine winemaker, husband, and father he was.
Kumeu River Wines has been a labour of love for Melba. She provides a fascinating source of knowledge and history during her winery tours, which are easily accessible from Auckland. Well worth a visit.
Kumeu River Wines always has been, and always will be, a welcoming place where good wine and great hospitality come together in a family atmosphere of history and tradition.
Michael Brajkovich
click to view close
Michael Brajkovich, MW
Michael Brajkovich, New Zealand's first Master of Wine (MW), holds a Bachelor's Degree in Oenology from Roseworthy College in South Australia, where he graduated top of his class. Michael is a member of the Institute of Masters of Wine in London as well as a respected wine judge in both New Zealand and Australia.
Following in the footsteps of his grandfather Mick and father Maté, Michael has added formal education to the pragmatism learnt from his father.
As a winemaker, Michael aims to be recognised as producing world class Chardonnay. One of the defining characteristics of Kumeu River Chardonnays is they are made in the old world style of classic French wine making. Rather than having a heavy oak presence from aging in a barrel, they are lighter, more refined, and designed to age in the bottle.
"The taste you should experience with my Chardonnay is light, elegant, and flinty. It will not be a big, bold, buttery oak bash. In the European tradition, I've designed my wines to be enjoyed at the table and to be accompanied with food of your choice."
Indeed, with wine comes food. Michael can provide a list of favourite restaurants in every major city in the world. Email him next time you are about to travel abroad or follow him on twitter @BrajkovichMJ
Milan Brajkovich
click to view close
Milan Brajkovich
With a Bachelor of Engineering in Chemical Engineering, vineyard director Milan Brajkovich provides the technology at Kumeu River Winery whilst at the same time working with the land in the traditional way; such as hand harvesting, training the vines to grow on lyre trellises (U-shaped frames that expose the grapes to more sunlight), and canopy netting.
As the vineyard's director, Milan manages a total of 40 hectares, with 10 hectares belonging to the various regional growers that supply Kumeu River.
We have an expert team of hand-pickers who harvest and sort the fruit, so that it arrives at the presses in pristine condition. The grapes are gently whole-bunch pressed to extract the best possible juice, which then goes in French oak barrels for fermentation. We do not add any yeast. We simply rely on the wild yeast strains that are naturally found on the grape berries that come in from the vineyard, which gives us a unique flavour and texture that is truly reflective of each vineyard's individual terroir.
Variations in taste result from very minor variations in soil.
"We have two vineyards that are practically next door to each other, growing the same grapes in the same conditions, yet their minor soil differences are very obvious in the final product."
For Milan, creating better wine involves a careful series of minor adjustments and planning as well as respecting that the weather gods will always play a role in the year's vintage.
Paul Brajkovich
click to view close
Paul Brajkovich
With a strong background in sales and marketing as well as a Bachelor of Commerce, Paul has been instrumental in securing Kumeu River's place within the international market.
Paul is responsible for all the Kumeu River varietals. He works with both local and international distributors to ensure the Kumeu Rivers Wines are available to collectors, drinkers, and restaurant diners wherever they may be.
Each vintage of Kumeu River Wines creates a new story to be told and sold. Each vintage needs to enhance the reputation for producing a range of great wine at multiple price points and in limited quantities that the winery is building.
"The raison d'être of the winery is our Chardonnay and seeing our wine being drunk, appreciated, and recognised by some of the most discerning palates in the world is most rewarding. It's those advocates of Kumeu River that are really the sales team."
Marijana Brajkovich
click to view close
Marijana Brajkovich
With a background in international hospitality, sales, and marketing as well as a Bachelor of Commerce degree, Marijana is an enormous asset to Kumeu River Wines as it markets its reputation for producing world class Chardonnay.
New Zealanders have had a love-hate relationship with Chardonnay. In the past, the grape was very popular. Consumers were increasingly attracted to big, heavy oaked wines to the point they almost all universally rejected the varietal. Anything but Chardonnay became a common catch cry. Today, there is an increasing appreciation of Chardonnay made in a true French Burgundy style, which means it's lighter and flinty, reflecting the land rather than the barrel.
Nigel Tibbits
click to view close
Nigel Tibbits
Nigel Tibbits joined Kumeu River Wines when he was just 16 years old. Nigel was tutored by Maté and has enjoyed being part of an industry where technology and technique have evolved immensely over the last three decades.
Most of the winery's current vineyards originate from the nursery vines that Nigel tended during Kumeu River's formative years. Today, Nigel's wealth of practical experience is invaluable in the on-going evolution of the Kumeu River style.
Quality wine is a reflection of quality grapes
Our Place
Kumeu River Wines encompasses 30 hectares of vineyards, which are predominantly clay soils overlying a sandstone base. These soil types retain sufficient water at depth, even during the summer months, to ensure the deep vine roots continue to hydrate the vine without excessive vigour. Therefore, the vineyard doesn't require irrigation, a factor that is critical to the quality of Kumeu River's grapes.
The vineyards are trained on a 'Lyre' trellis to help optimise exposure to light and increase grape maturity and quality. One of the distinguishing factors of Kumeu River's wines is all of the grapes are harvested by hand. This allows the opportunity to remove sub-standard grapes by hand; the result is a net yield of purely high-quality grapes.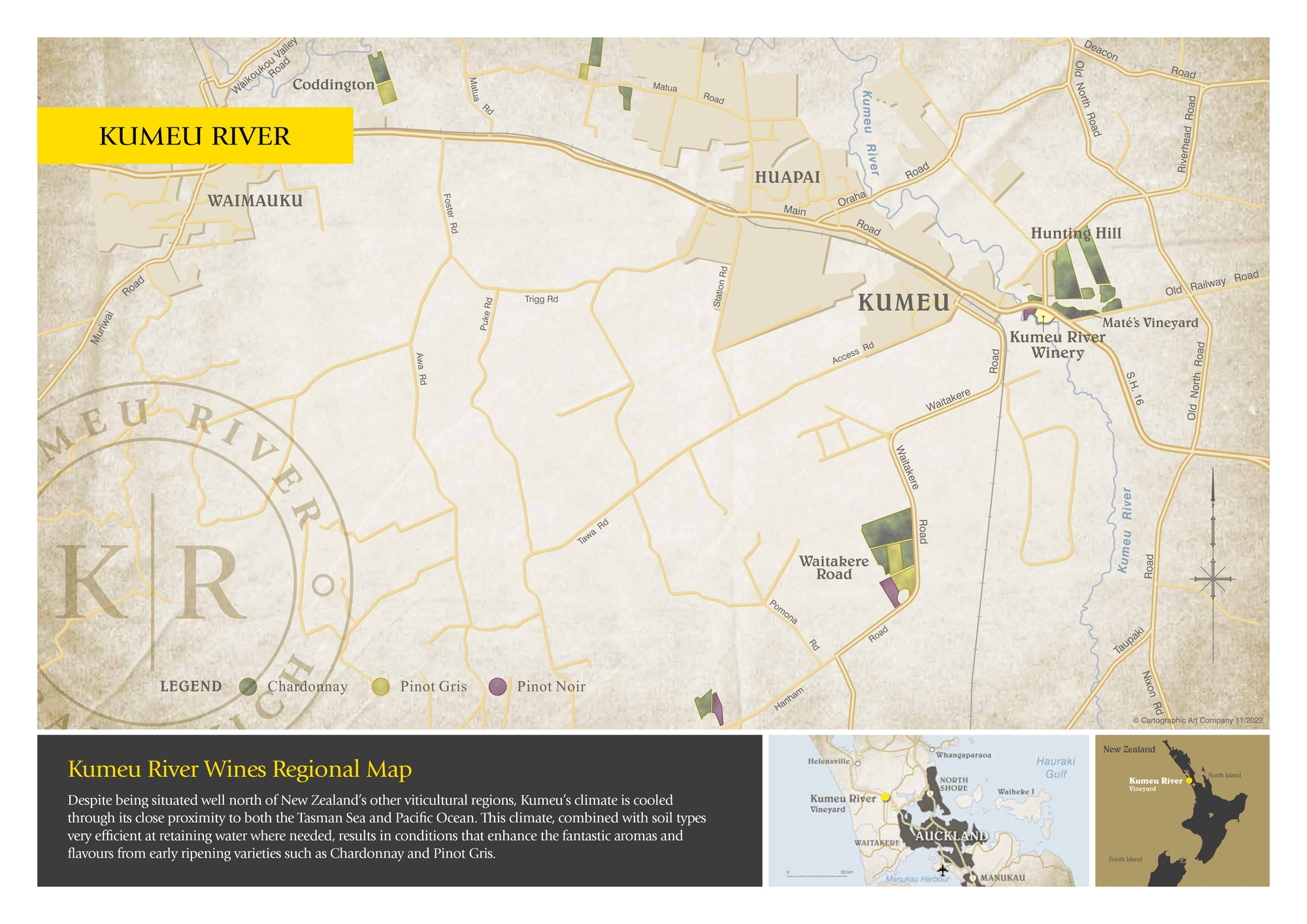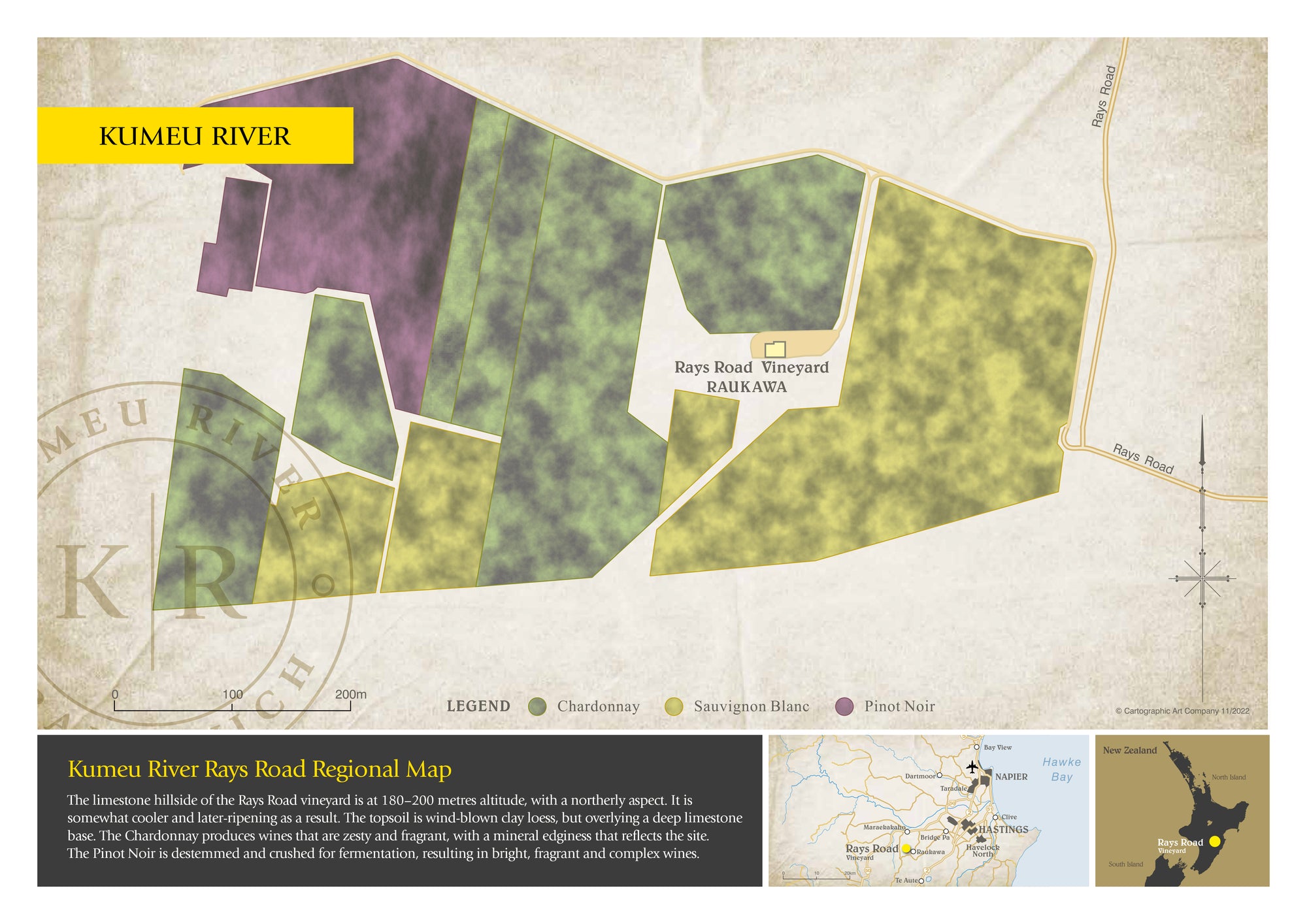 Our Story
Just as the Brajkovich family has grown, so too has the winery itself. Extensions and additions mark the milestones that have seen business adapt and expand over the years. Today, the winery produces around 250,000 bottles annually from 30 hectares of its own vineyards in Kumeu, and another 10 hectares from local growers.
The Chardonnay wines of Kumeu River have gained a strong foothold within the international market, receiving outstanding accolades. The vineyard has gone on to become the globally recognised benchmark for non-Burgundy produced Chardonnay.
1937
The first generation of the Brajkovich family arrive in New Zealand
The story of Kumeu River Wines began to unfold more than half a century ago with the first generation of the Brajkovich family to arrive in New Zealand.
In their small Croatian village of Živogošće, Mick and Katé Brajkovich had also farmed small plots of land, and had experience tending vines and making their own wine. After a few years of working in the gum fields, the family moved to Henderson in West Auckland, where Mick, Katé, and son Maté worked in local vineyards and orchards. By 1944, they had saved enough money to purchase a Kumeu property with a small vineyard.
1944
San Marino Vineyards
Although Mick died in 1949, Maté and Katé continued to work in the vineyard, which became known as San Marino Vineyards, tending the vines and making wine to sell.
In 1957, Maté met his wife, Melba, whose grandparents had also immigrated to New Zealand from Croatia. During the 1960s the couple had four children: Michael, Marijana, Milan, and Paul. For the children, being brought up around the winery established a strong foundation of industry knowledge and skill that would take the winery to a new level of success in the years to come.
Although the winery and Maté were steadily gaining a reputation within the industry, it was the late 1970s and early 1980s that saw a marked evolution in the style and direction of the winery. In 1979, the winery moved away from the hybrids used for the production of fortified and basic red and white wines to varieties such as Sauvignon Blanc, Chardonnay, Merlot, and Cabernet Franc. All popular and commonly known varieties today, these wines were relatively unheard of at that stage, posing a bold and somewhat risky move for the winery.
1983
Michael spends vintage in France
Based on this experience, a new range of wines was developed under the Kumeu River label, a range of Burgundian style chardonnays.
1986
Kumeu River: a new name and a single minded vision
During the 1980s, Michael, Milan, and Paul became more involved in the business and the winery took on a new focus: quality and reputation. The winery changed its name to Kumeu River Wines and began producing a Burgundy-influenced style of Chardonnay that featured indigenous yeasts, extended lees ageing, and malo-lactic fermentation. In the years since, the Chardonnays of Kumeu River have steadily gained international awards and accolades.
1989
Michael becomes New Zealand's Master of Wine
2014
Queen's Birthday honours
Melba Brajkovich becomes a member of the New Zealand Order of Merit for services to the wine industry and community.
2014
A landmark blind tasting
Kumeu River's London based distributer Stephen Browett and his company Farr Vintners organise a blind tasting with the best palates, critics and wine writers in the world. Kumeu's Maté's, Coddington, Hunting Hill and Estate Chardonnay's are placed against a range of Premier Cru and Village Burgundies from the best producers. Kumeu triumphed over top white Burgundies in every flight apart from one, where it came first equal.
2017
Ray's Road vineyard acquisition
The Brajkovich's acquire their first major vineyard site outside of Kumeu in the Hawke's Bay.
2020
James Suckling awards Matés vineyard with 100 points